Earth Day / Week 2020 Virtual Events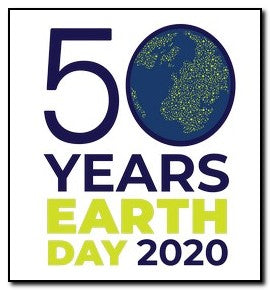 In commemoration of Earth Day 2020 and the unique times we are living in today, we are honored to share / re-post this outreach from our friends at Eco-Justice Ministries:
For this 50th anniversary of Earth Day, a lot of special and important events are planned, especially through the three days of Wednesday - Friday. Unfortunately, most of them now are "virtual" events offered on-line ... but that means that we all have the opportunity to participate in more activities, with a wider range of topics.
There are many programs and events scheduled for this week.  You can find a comprehensive list on the Eco-Justice Ministries website, all with details about how to register or join the live-stream.
A powerful highlight of this week is the three-day long "Earth Day Live" mobilization. The full schedule for this youth-planned series is now on-line. From 9:00 AM through 9:00 PM (Eastern time) on all three days, there will be constant and exciting presentations, concerts, and on-line activism.
Wednesday April 22 -- "leaning into healing and togetherness to provide comfort and inspiration during this time of unknown. As with all three days, we are centering the stories and voices of frontline, Indigenous, and People of Color leaders."
Thursday, April 23 -- "will target financial institutions across the country, bringing attention to the fact that banks, insurance companies, and asset managers are complicit in funding, insuring, and investing in the climate crisis, and that stopping this money pipeline is one of the most important ways we can address the climate emergency." Some of the day's programming will include coordinated activism.
Friday, April 24 -- "We will focus on the urgency of political change through a nationwide youth voter registration day, including by holding a digital, relational voter registration challenge to see which region of the country can register the most voters, and call on elected officials to support our demands."
I strongly urge you to join in with as much of this week's programming as you can -- through the Earth Day Live portal.