EVERY DAY IS EARTH DAY: WE MUST HANDLE THE PLANET WITH CARE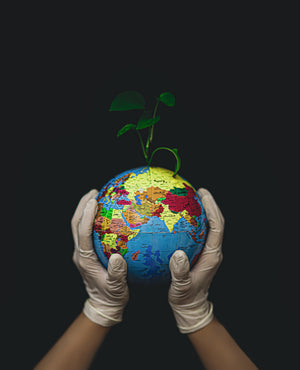 Over the years, we here at Lovely Lady Products have discussed the importance of taking care of the planet and how by doing so, you take care of your wellbeing as well.
The Global Community has been SLAPPED into this awareness due to the COVID-19 virus, which has pushed us into realizing the time to act is now because Mother Nature is just getting started with her wrath. We were told to be good stewards of this planet (in other words, take care of where you live). Now is the time for us to move with urgency, handling the planet with care. So let's take big and small steps to Restore the Planet. As the famous Greta Thumberg (student Environmentalist) states, "Act as if your house is on fire, because it is."
So what can we do as individuals to slowdown and hopefully stop climate change, loss of all forms of life, pandemics and to get ahead of the natural disasters that will most definitely define our future? We can start by visiting Earthday.org to learn more and find ways to get involved.
LOVELY IS AS LOVELY DOES!