GF Travel Blog Review - Lovely Lady Gluten Free Hair and Skin Care Products Deliver Concentrated Dose of Beneficial Nutrients - Aug 2013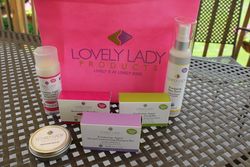 Have you ever heard of Lovely Lady skin care and hair care products? Neither had I -- until recently -- when the company sent me some products samples to try. I have to say...I was intrigued. As with many innovations, this was a product line born out of necessity. The Founder of the company suffered for many years from skin and hair problems that were later attributed to Celiac Disease, so she was determined to develop a line of effective gluten free products.
In addition to being gluten free, Lovely Lady hair care and skin care products contain NO water. What's so great about that, you wonder? I, too, found myself thinking...isn't water good for our skin? Well, yes and no.
The problem is, many products on the market today are diluted with too much water (sometimes up to 70% of the formula). Not only are you not getting less of the beneficial ingredients, but you're paying for a "weaker" and less effective product! What's more, when a product contains water, a preservative needs to be added to prevent mold. 
The core ingredients in Lovely Lady skin and hair care products are natural, plant-based ingredients you may have heard about recently, like argan oil and helichrysum. Argan oil contains more than 80% mono- and polyunsaturated fatty acids, which is great for everyday skin conditioning as well as adressing aging, dry, problem, and sensitive skin.  Helichrysum is from a flower that will not wilt or wither after it's been picked. Imagine how effective this oil, described as "Everlasting" and Immortelle" is!  
I have tried three of Lovely Lady's skin care products and three hair care products. I loved the scent and feel of the the Everlasting-Argan Facial Cleansing Bar, made with neroli essential oil, argan oil, and calendula. It lathers well and leaves my skin feeling clean and smooth -- without over-drying it. My favorite product is probably the Everlasting Skin Toner, which has a honey-scent, even though there is no honey in the formula. Maybe it's the helichrysum....The third step in this 3-step skin care regimen is the Immortelle Facial Nutrient, which isn't like most moisturizers you're used to. It comes in a tin, and you just rub a bit between your fingertips and pat or smooth on your face. It absorbs quickly without leaving a greasy feel. It, too, smells wonderful and contains the very unique and beneficial helichrysum essential oil. 
In addition to sending me the Moisturizing Bath Bar to try, Lovely Lady Products also provided me with two reallly unique products, which are particularly good for travel: a Everlasting-Argan Solid Lotion Moisturizerwhich is like a solid deoderant stick you roll over your skin (and it simply melts into your skin, with no need to rub or spread around) and a Everlasting-Argan Neroli Conditioning Shampoo Bar. This looks exactly like a bar of soap, but you rub it in your hands or directly in your hair. It lathers well and leaves hair soft,  without ever leaving you with an itchy scalp the way so many other shampoos do. (I have thick, long hair, so I used a bit of extra conditioner, too, even though the bar is technically a shampoo/conditioner in one.) 
Other products I have not yet sampled include Body Butters (I LOVE the decadent richness of body butters), Everlasting-Argan Night Serum Oil and Infused Treatment Oils.
You'll find that these products are more value-priced than other high-end skin care lines offered at department stores -- and again, you're getting a more concentrated dose of beneficial products without water diluting them. Lovely Lady was even awarded the distinction of Innovator/Entrepreneur of the Year in 2012 by the Center for Resource Conservation in recognition of their commitment to water conseration. 
What else, other than being gluten free and waterless (and extremely effective!)  makes Lovely Lady products so special? 
USDA Certified Organic
Fair Trade
Cruelty Free
No GMOs
No artificial preseratives, fragrances, or toxins
All 21 of Lovely Lady's signature products can be purchased through the company's website.