Lovely Lady Products Honored as Innovator & Entrepreneur of the Year - Nov 2012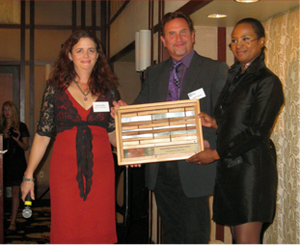 Organic, Gluten-free, Beauty Care Manufacturer Lovely Lady Products Honored as "Innovator & Entrepreneur of the Year" by Center for Resource Conservation
Garnering attention as "Innovator and Entrepreneur of the Year" and as a finalist at Naturally Boulder's 2012 Pitch Slam Awards, Fort Collins-based Lovely Lady Products is poised for continued growth in gluten free, certified organic beauty care products.
Fort Collins, CO (November 13, 2012) – Lovely Lady Products, maker of Celiac-approved, gluten-free, fair trade, USDA Certified Organic skin and beauty care products, was recently recognized not only for its premium allergen-free product line and entrepreneurship, but also for its commitment to sustainability, water conservation and the environment.
The Fort Collins-based company, which manufactures its own products, recently received the prestigious Innovator and Entrepreneur of the Year Award by Boulder, CO-based Center for Resource Conservation for the company's water conservation measures. Lovely Lady does not add any water to its pure-plant-based products. Only weeks before, the company also was named one of three finalists at the Naturally Boulder 2012 Pitch Slam Awards by an industry-led organization that supports and promotes natural, organic and sustainable products business and entrepreneurship in Boulder, Denver and Colorado's Front Range.
Lovely Lady Products, a celiac owned and operated company established by "Chief Loveliness Officer" Cheryl Caspi in 2011, has experienced significant retail and distribution success in its first two years in the local natural skin care marketplace. The focused line of facial, skin, hair and bath care products is currently available in 10 Whole Foods Markets in the Rocky Mountain region, at Alfalfa's Market in Boulder, and other independent retailers in the region. The products also are approved nationally by Whole Foods Market, and the company's goals include expanding sales in 2013 beyond the Colorado market.
Gluten Pervasive in Beauty Care
According to a November 2011 study by George Washington University, gluten is pervasive in cosmetics and it is rarely labeled, which may cause a threat to those with celiac disease and gluten sensitivities.
"Many people with gluten sensitivities or celiac disease don't realize that the majority of commercially available body care products are made with gluten, and most of these products aren't even labeled," said Caspi, whose own issues with Celiac disease and allergies inspired her to formulate the Lovely Lady products not only as gluten free, but also as certified organic.
The gluten-free line of premium organic skin, beauty and hair care products is based on pure helichrysum oil and argan oil and other plant-based ingredients. Both helichrysum and argan oils are renowned in the natural skin care world for their healing and anti-aging properties. Helichrysum oil, derived from strawflower and used for hundreds of years around the Mediterranean and Africa as an anti-inflammatory remedy and featured in a number of Lovely Lady products, was recently touted by Dr. Oz as a powerful remedy for treating wounds, burns and skin irritations.
Argan Oil, Helichrysum Featured in Products
Lovely Lady Products also incorporates highly prized argan oil, exclusively grown and produced in Morocco, into many of its products. An article in the New York Times referred to the oil as "liquid gold" because of its powerful healing properties for skin irritations and high cost of cultivation and production. High levels of vitamin E, tocopherols and skin softening agents in argan oil are in part what make the products uniquely effective, while Lovely Lady's exclusive supply chain helps keeps these products cost effective for the consumer.
"It's never too early or too late to begin caring about the health and maintenance of your skin and we're encouraging it by incorporating these amazing essential oils into our formulations," said Caspi. "Also, we are thrilled with the response to our products by our retail partners and also by our consumers. In less than two years, we have built a loyal base and nearly 8,000 'Likes' on our company Facebook page."
Lovely Lady Products is currently focusing on brand and sales growth in the Rocky Mountain region by engaging a sales and marketing firm, hiring a broker, and continuing its popular in-store product demonstrations. The company will make its debut at Natural Products Expo West in March 2013 to explore national market potential.
About Lovely Lady Products
The company, based in Fort Collins, Colorado, was founded in 2011 by Cheryl Caspi out of a personal need for Celiac-friendly, holistic skin care. All Lovely Lady personal care products, from scented soaps to body lotion, are certified organic, gluten free and cruelty free. Using premium quality, pure plant-based ingredients, and healing essential oils including pure argan oil and helichrysum, and with no added water, Lovely Lady Products are ideal for women, men, children and anyone with skin sensitivities and/or gluten intolerance. For more information and to shop online, visit www.lovelyladyproducts.com, tel 866.453.4870.